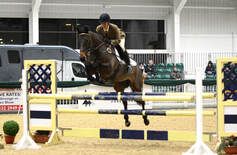 Ever since I was little I have always enjoyed riding, I started so young I can't even remember learning to ride. I was lucky enough to be brought up on my parents riding school so I always had a variety of horses and ponies to ride from an early age, including lots of lovely ones but also lots of difficult ones, which taught me how to be patient with horses from the start. I was a member of the Pony Club from five to eighteen, being selected to ride on various teams, from Games to Eventing, which included going to Burghley for the Team Show Jumping.
At sixteen I left school and went to Hartpury College to do a National Diploma in Equine Business and Finance. Whilst at college I passed my BHS Stages 1,2&3 and my PTT. At Hartpury there were over 80 horses, so I gained a huge amount of experience both riding and in stable management, under the watchful eye of the Instructors. After successfully completing my course I was lucky enough to get a job for Olympic Event Rider Tiny Clapham. I stayed with Tiny for a year, learning how a top class yard is run and travelling to both national and international events gaining invaluable experience into the eventing industry. In that time I saw what it took to prepare a horse for four star competitions, helping with the fitness preparation of all the horses on the yard whatever standard. While I was at Tiny's I got an offer to go over to New Zealand to work for one of the top event riders over there; an opportunity I grabbed with both hands. I worked for Bryce Newman for almost a year and was in sole charge of between eight and fifteen event horses! This sounds a lot harder than it was, because in New Zealand everything 'Events' from the field! I did all the fitness and galloping of the horses as well as having the opportunity to school and compete some of the younger more inexperienced horses there. I travelled all over the country to competitions including the one and three day national championships. After all those amazing experiences, I returned back to the UK and decided it was time to come home to Little Garendon to work with Mum and Cherise.
In the twenty years I have been home I have done numerous bar jobs to earn money so I could event and instead of having holidays I groomed freelance at three day events and was lucky to go to many events in England, Scotland and Ireland including grooming at Badminton which was a brilliant experience. I finally managed to give up the extra jobs to work full time with the horses, looking after and training horses as well mending rugs. Since being back at Little Garendon I have successfully competed a lot of horses in various disciplines. Having always started on youngsters or inexperienced horses I have produced them carefully to successfully compete to the best of their ability. This includes competing several horses up to Intermediate level eventing and competing at several three day events. I have also had a certain amount of success in other disciplines including show jumping to Foxhunter level, showing at county standard, team chasing, dressage and enjoying many days out hunting.
Just over 7 years ago ago my life had massive change, I had a lovely little girl called Ila and a few years later I had a second daughter Elsie. After having Ila I decided that it would be better to be able to do more at home and travel about less teaching so in December 2011 I went on a course in Cumbria to learn the basics of making and repairing tack, I really enjoyed it and I still do its a really good feeling as you have a real sense of achievement when you make a new product or make something as good as new. I am very lucky, as Tony Green who is a brilliant harness maker, lives very locally and has been a real help. Toy is a really fascinating man to listen to as he has been making harnesses and repairing tack for the past forty years, so I am really grateful for him letting me gain from his knowledge.

From starting off with tack repairs I have now found a new passion which is make bespoke leather items. From belts to bags, dog collars and leads to key rings, they all personalised and use the very best products I can find. Please see the LG Leather Work Gallery for some of my work.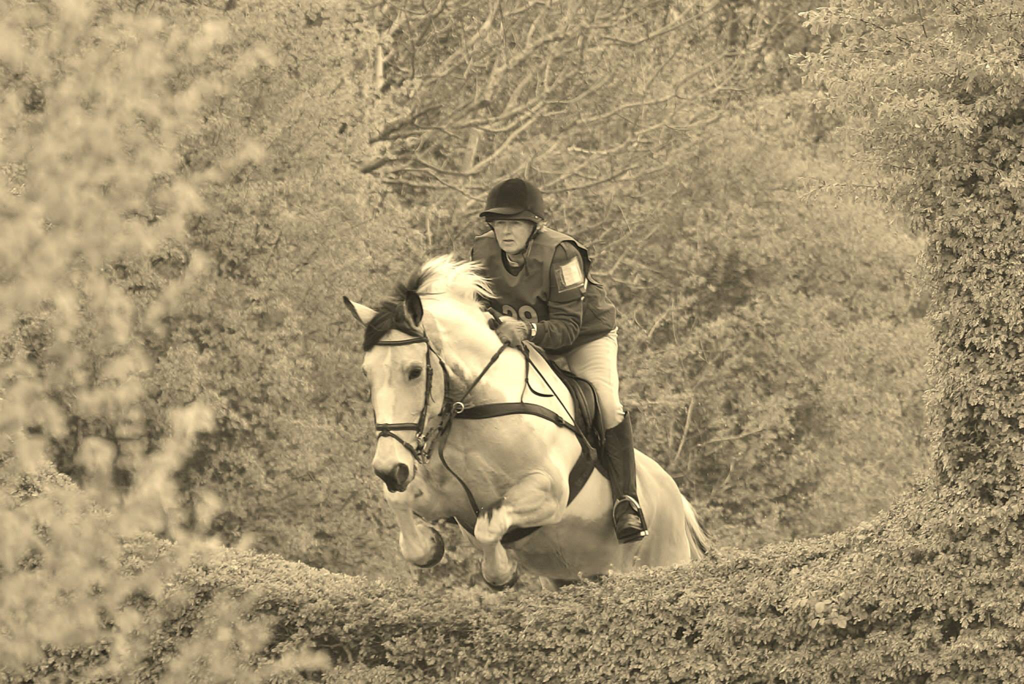 My earliest riding memory is of eating sandwiches on the way to a hunt meet at the age of twelve. Horses have always played a huge part in my life, representing the pony club at show jumping and eventing as well being successful at local shows at an early age. My father was a huge hunt supporter so a lot of my youth was spent in the hunting field on lots of different horses and ponies, which definitely helped my stickability on some not so easy horses. While I was based with my Father and Stepmother as well as looking after our own horses and other hunting liveries I successfully completed a Golden Horse Shoe Ride, The Melton Hunt Club Ride and rode in a few Point to Points although this was not my idea of fun! Jennifer Bream encouraged me to take my pony club test right up to and including my A test in 1964 and start my BHS exams. I passed my BHSAI in 1974 and BHSII in 1984, I am now an examiner for the pony club and BHS and examine up to BHSPI. I worked for Jack Gittens for six months where I helped school and prepare horses for all the big shows including Hickstead, The Royal Show and Windsor, with Douglas Bunns horses.
After leaving Jacks I was married to John and we moved in to Little Garendon. I started the riding school for a small group of people with just a few ponies over twenty eight years ago and it just grew from there. In those years of running the riding school I have had several NVQ apprentices who have all gone on to get there NVQ 3 as well as the equivalent at BHS level. I have always believed that you should be able to look after horses if you want to ride so all my pupils throughout the years, however young or old, have a good knowledge of general horse care. I enjoy sharing my knowledge with other people, whether it is in a stable, lesson or helping someone prepare for an exam. In between having children and having a riding school I was competing successfully at huntertrials on a local lady's cob cross, she was called Kerry and could be quite a handful at times, she really gave me back the competition bug and before I knew it I was back show jumping, dressage and eventing. I bought Danny as a three year old to sell on but ending up keeping him for sixteen years! Although he could be very excitable he turned out to be a fantastic team chaser and went on to be a lead horse over some of the biggest courses in the country. He also successfully competed up to Novice level eventing and Newcomers show jumping.
I have always been there to support Rachael in her chosen career over the years, getting a real sense of achievement every time she goes up a level, knowing that although I might not be riding the horse I am certainly helping prepare both horse and rider to get there. My greatest love though is the breaking and schooling of horses, although I have had horses in my life for well over 50years no horse has ever been the same and all have different needs. From the basic groundwork to going on to compete there is nothing like the buzz of knowing you have got them there. I still enjoy riding, even after two operations and now collecting my pension, which goes to show there is life in the old girl yet!!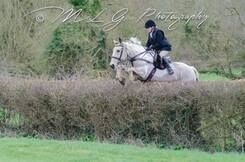 I have known Margaret and Rachael for over twenty years and worked for them for ten years.
I first started at Little Garendon at the age of twelve in the riding school, where I gained a lot of experience both on and off the ponies. At the age of sixteen I started riding for Margaret, gaining my NVQ 2&3 qualifications as well as BHS stages 1,2&3. When I turned eighteen the riding stables decided to cut down on the amount of lessons so there was no longer a job for me, but I continued to ride and help both Margaret and Rachael.
Although I have never owned my own horse I have competed in various disciplines on Margaret's horses including Team Chasing, hunting, show jumping, dressage, hunter trials and one day eventing. Being at the yard I have had opportunities I could only have dreamed of, riding a huge variety of horses from a 14.2hh Welsh Cobs to 17.1hh Thoroughbreds!
I now play an active role in the breaking and schooling of all the horses that come on to the yard. I love to watch young horses being brought on slowly and produced to the best possible standard.
When not competing myself I love helping Rachael at the bigger events and get the same buzz watching them as I would riding myself. I enjoy the fact that we are such a close knit team that work efficiently and effectively to obtain the highest standards. I owe a huge amount to Little Garendon for all the knowledge and memories I hold so dear.